WEB MARKETING & DIGITAL DESIGN
Web Design & Content Creation
Evolving Creativity can create a beautiful responsive clean design that is optimized for computers, tablets, and mobile devices. We provide copywriting services to ensure your targeted message is clear and concise, enabling better SEO with major search engines. The content platform we use integrates with major social media services and uses an easy to understand content management system allowing our customers to edit their own website. The CMS also offers an e-commerce service, making it easy to sell physical or digital goods directly to your online customers. Our customers have access to important detail web reports and Google analytics.
Listed below are some examples of our past work. Contact us at 616.308.9739 for a free 15 min consultation.
Website Portfolio & Related topics
Email Marketing Campaign Design
We have years of experience designing various email campaigns using multiple email distribution platforms such MailChimp, Get Response, and ExactTarget. We have designed email campaigns for new product launches, store openings/closings, holidays, sport events, and weekly newsletters. We have designed simple emails campaigns to dynamic database driven campaigns based on highly targeted customer data. We can help your business with your email marketing.
Lets talk - contact Evolving Creativity LLC at 616.308.9739
Email Design Portfolio & Related Topics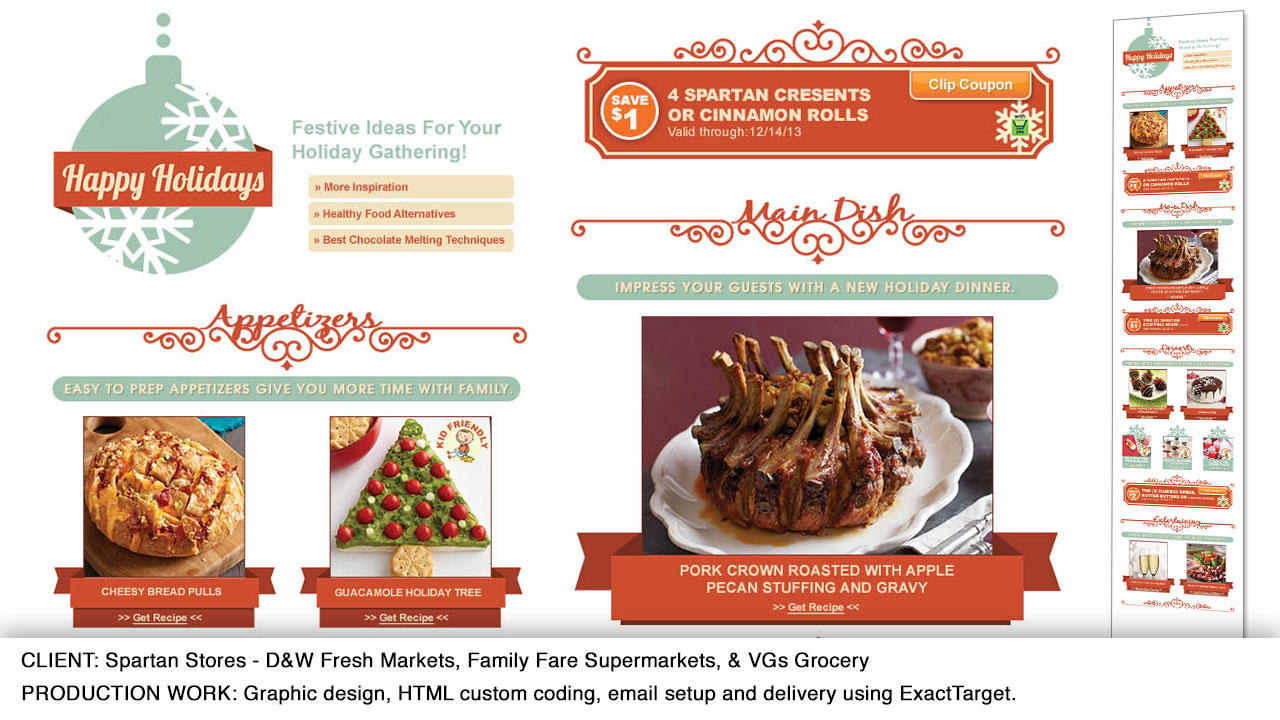 Evolving Creativity designed a custom holiday topic email for SpartanNash's D&W Fresh Markets, Family Fare Supermarkets, and VGs Grocery.
Read More →
Standard, Flash, HTML5 and Rich Media Display Ad Design
Display ads have the ability to sell with pictures, sounds, interactivity, and video. Rich Media ads offer more ways to involve an audience with an ad. The ad can expand, float, peel down, etc. Using Flash or HTML5 technology, the ads can include multiple levels of content in one placement: videos, games, tweets from an ad, etc. If you have a simple objective to generate clicks or a more ambitious goal to create brand awareness, Rich Media is the format to go with.
When you need creative for your next display ad marketing campaign contact Evolving Creativity at 616.308.9739
Display Ad portfolio & Related Topics
Digital Signage Design
Good digital signage content is more than just an engaging message.
Let our creative team craft beautiful content for your brand and environment. When we design our slides or motion graphics they are clean, simple, attractive, appropriate and brief. We can help you with every part of the digital signage process, including strategy, interface design, database integration, social sharing and analytics.
Lets Talk. Contact Evolving Creativity at 616.308.9739
Digital Signage Portfolio & related Topics
A few years back, a digital billboard near Grand Rapids, Michigan provided a time-sensitive news update to share with the 1300AM listening audience of the lost of a legendary radio icon at ClearChannel of West Michigan, Rick Beckett from the "The Rick and Scott Show".
Read More →
Evolving Creativity's design team can create a whole range of motion graphics and animations for many types of digital signage platforms used in venues, lobbies, expo exhibitions, waiting rooms, outdoor events, and etc.
Read More →
Digital signage design in a venue can save on printing costs and provided your customers with creative ideas.
Read More →